Vanguard customer? Visit our dedicated customer page to check how Ebenegate manages your IVA. 
Visit page
Are you ready to change someone's life?
Join our ever growing team of insolvency and customer care experts
Hello, we're Ebenegate
Welcome! We're a global managed service company and specialise in looking after people in debt solutions.
Everyday we speak to people around the world who are struggling with their finances and help them find peace of mind that a brighter future lies ahead.
Living with debt isn't easy and can have an impact on more than just a person's bank balance. In fact, financial hardship often affects relationships and mental health.
That's why our help matters in more ways than one.
Our experienced teams play a vital part in supporting people during their darkest times. It is that commitment to support that has allowed us to help more than 182,000 people see the light at the end of the tunnel.
We want to continue to help people sleep easier and enjoy life free of the stress and pressure of money worries but we need you.
Your support will help us continue to offer support when people need it most.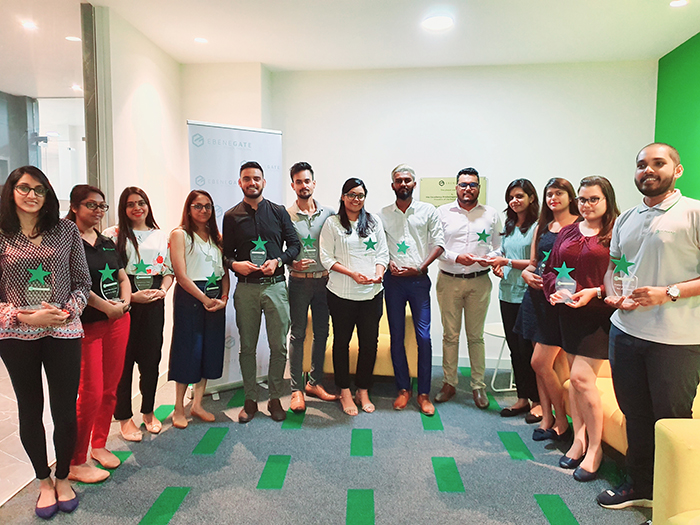 Power in numbers
When we first opened our doors in 2016 we had a team of 46 staff, now we have 181 people and counting as we continue to invest in our teams.

Rise to the top
We believe in supporting the career aspirations of our staff and we're proud to say that 116 members of our teams have received internal promotions.

Commitment to training
Knowledge is power, that's why we're proud to provide regular training to staff to help them grow and develop their skills and knowledge.

Switch-on to technology
 We continually invest in the latest technology to help streamline our services and ensure staff are equipped to offer the best possible service.

Let's get social
 Our people are our culture.  We're proud to have a bustling social scene at Ebenegate with regular work parties and team building events.
Community spirit
We're passionate about supporting our local community and the charities within. We're committed to hosting regular fundraisers and special events.
Staff success stories
Our experts share their experiences with Ebenegate
Joining Ebenegate in 2017 and starting as a Customer Support Advisor, I was offered the right support and tools to improve my career path. Acquiring knowledge from various departments, within less than two years, I was promoted to Manager. I now have the opportunity to manage the day-to-day operations of one of our Managed Service Book with over 30,000 clients which is a great exposure to different stakeholders in the business. Simply put, believe in yourself and trust the process.
I have worked for Ebenegate for just under two years. During this time, I have progressed through various areas of the business gaining great knowledge of the insolvency sector and trained to give 100% customer service to our clients. The remuneration package is competitive but more importantly the support and encouragement to progress is unrivalled. Everyone is valued and respected. It's clear to see that senior management really cares for the company and the employees by creating a nice work environment and a great culture that filters down from the top. If you want to work hard and be rewarded well for it, this is the company to work for. Ebenegate offers a chance to progress through the ranks for hard working individuals who show they can succeed and excel in their respected areas.
I was given the opportunity to work at Ebenegate 8 months ago and today with confidence, I can say that I am proud to be part of the company. A company where everyone shares the same vision and is dedicated to the same mission. What I like about the company is that people care about the employees and their personal growth. My work is always evolving and I am learning something new each and every day. There is a genuine spirit of cooperation and shared goals. A collaborative environment where everyone has a voice, opinions and ideas are valued, feedback is encouraged and hard-work is recognised and rewarded. Ebenegate has a positive organizational structure which keeps us motivated and inspired at work. With the on-going indoor tournament, it's a great bonding and team building exercise. If I had to define Ebenegate in 3 words it would be: Future, Value and Growth.
As a Business Improvement Analyst, I had the opportunity to visit the Glasgow office for training purposes and learned a lot from the brilliant team working there. During my trip, the company offered my colleague and I free VIP tickets to attend a live concert of one of my favourite bands at the SSE Hydro concert venue in Glasgow which was truly a dream come true.
Apply now to discover your next career